The Tammy tales started as a horror short story for a Hallowe'en 2010 story competition. I didn't win but 'The Ceilidh' did get a 'Highly Commended' and was asked to write a follow up.
That second story was a more conventional, and longer, tale. 'Tom's Fireworks' properly introduced the Tammy character as well as some of the character's backstory. The tale did, however, have a defined ending and I had no plans to write any more.
My wishes were ignored and I was beaten (gently) into submission, the result was "Tamara's Debut" a tale built around Westside Story and a coming of age/coming out story. That story was over 100,000 words in length and is most definitely a novel!
Tamara's Debut became Tammy's Tales book 1, the series has since been renamed as the Tammyverse series.
For a full listing of the stories, check out the Timeline
Book 12, Deja Flew,  has recently been published on Big Closet and concluded early January 2021. The latest story is in conjunction with Alecia Snowfall.
Back in August 2020, between Lockdown #1 and Lockdown #2, I finally found the time to finish an edit of Tom's Fireworks and Tamara's Debut that had been started two years earlier. That hit Kindle on 1st Sept as Tammyverse Book 1.
Book 2, Tamara's First Christmas, was published on Kindle on 30th September 2020. It picks up the story the day after Tammy's big debut and was meant to tidy up the many loose ends from Tamara's Debut. Instead it set the scene for the continuing story!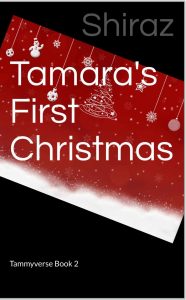 The next Kindle release was Tamara's Trials, although this is over 600 pages so will be split into two books. The first part was out at the beginning of November and part 2 arrived on 21st December 2020, in time for Christmas!
The first Kindle release of 2021 is Testing Times, this was the fourth major Tammy story and is the fifth in the Tammyverse Kindle releases. It was published in March 2021.
It rolls in at just under 500 pages. What makes this release different is that it includes a brand new opening story that has not been published elsewhere (apart from a teaser on my Facebook page!). This story, a full short story, originates from the very short first person diary 'Tammy's Easter Diary'.
---
The next release will be Tammy's Summer Fling, due around June 2021.