---
Summary:
My journey through the UK Gender Identity Referral process. It won't be quick.
I initially transitioned in 2008 without any support, having been refused a gatekeeper interview. That transition was short lived and ended after 6 weeks with a mental health breakdown. I next applied in 2012 and received approval, but the papers were lost. Finally in 2022 I restarted the process.
In early 2023 I transitioned again and now it's for good but in the summer of 2023 I discovered that my referral hadn't been submitted correctly. That took a few weeks to resolve but I am now definitely in the queue, backdated to July 2022. My formal complaint, covering the 2012 interview and the 2022/23 referral(s) is now with an adjudicator.
Part 0 : 12-22 July 2012
My official journey probably started when I spoke to my (then) GP in early 2012 and told him I was transgender. His reply "I know."
I saw the shrink on the 12th of July, this was the Gatekeeper interview, but it was clear from the outset that I was seeing a fresh and inexperienced shrink; that was confirmed at the end of the session the psychiatrist said that firstly she had only been qualified for just over two years and secondly she had no experience of gender dysphoria cases.
Why she didn't tell me this at the beginning of the interview I'll never know. Anyway, I was relaxed and answered all her questions but I had the feeling that she was looking for key phrases, indeed she kept referring to a mental disorder handbook. In the end I told her that I couldn't come up with the magic words she was fishing for as it isn't as simple as that. In the end I did suggest it might have been easier for her if I had gone there in heels and a Laura Ashley dress – she had already stated by that time that she did not accept that I met the criteria.
She did say, however, that her notes would have to be reviewed by one of the senior shrinks and she would speak to my GP. I was due to see him a few days later.
It was just over a week later when the report arrived in the post, reversing what I'd been told at the end of the session. I had met the criteria and referral was recommended.
My mail on Saturday included a letter from my Doctor. I've been exchanging letters with her since March after I realised it had been 10 years since my initial 'gatekeeper' interview with an NHS shrink, and nothing had been heard since then. The irony is that the same GP was handling me then so at least she couldn't blame anyone else in the building. The main issue was that the original paperwork had been lost and now is beyond recovery, although I had scanned the original report that recommended referral. Naturally the GP complained that I hadn't followed up but some of that was naivety with a side serving of apathy resulting from family issues and a soon-to-be teenage daughter!
So yesterday's letter started with a blame game but ended with confirmation that I will be referred to the 'local' GIC. Unfortunately that's the Tavistock in London where they are currently seeing 2018 referrals for initial interviews. There's another facility outside London that might be better but I may need to self-refer once I have the paperwork from the Tavi.
So a decade after the original application my journey is about to restart.
Part 2 : 29 June 2022
Please bear in mind that I'm writing about the UK. Your experience may vary!
I wrote to my GP on Monday, confirming my wish to be referred for a Gender Identity Clinic, adding that I would also like an Orchidectomy. As an elective procedure (and not being performed at the same time as GRS) there's likely to be a fairly long wait for an NHS date.
Nothing back from my GP yet (no surprise there) but I have been checking if my private scheme includes Orchi – yes it does. I rejoined the health scheme earlier in the year and there's a 6 month restriction before you can have any treatment, that expires next Sunday!! One condition is that I must have a GP referral so not 100% will get that soon (but if you don't ask then you definitely won't get!)
One bonus – I received a £20 M&S gift card when I rejoined. Finally yesterday drove to an M&S Outlet Store (Marks & Spencer branded remainders & discontinued lines). I picked up 2 cotton tie up short skirts at £10 each and a long stripey top for £5. All size 16. So cost me a fiver! Oh, two of those items were the last size 16 on the rails!
Update: List price for the skirts was £17.50 each, top was £14. So £49 worth of clothes for a fiver!
Part 3 : 6 July 2022
Progress! My GP has been in touch and emailed me a referral form for the Tavistock Gender Identity Development Service. Completed and sent directly to GIDS.
Date of referral is today!
Part 4 : 15 September 2022
I was doing some housekeeping on my file/media server when I came across a copy of a few long-deleted blog entries from 2012. This one from 2012-07-24 should be self-explanatory:
Anyone who knows me is aware that I seldom stop talking, but one little envelope in the mail managed to do just that.

The envelope was marked "Private & Confidential". I just knew it had to be the psychiatrist's report so opened it with some trepidation, especially given the experience I had 'enjoyed' in the company of the newly-qualified shrink two weeks ago.

I was struck dumb by a few simple words:

"I have assessed Mr ……. and I can confirm that he meets the criteria for diagnosis of a Gender Dysphoria & Transexualism. He is requesting a referral to the Gender Identity Clinic for further assessment and treatment and I would like to support his request"

It was signed by the very same shrink who had told me the exact opposite.

So, despite the atrocious grammar, that's stage one cleared. At some point in the future I should get an appointment at the Charing Cross GIC in London.
So 10 years back I was feeling as if a weight had been lifted from me? Today I know just how wrong I was (at the time) but at least things are finally beginning to move forward.
My GP and the NHS have one email address & phone number for me but when I submitted the referral document to the Gender Identity Clinic I put down my Shiraz accounts as my preferred means of contact. A few weeks later I did receive an email from the GIC addressed to Shiraz, which confirmed I was now registered there. The email asked for confirmation of contact information – the boring admin stuff – but it does mean I'm in the queue.
I'm not certain how long it will be before the next contact but I've decided to make a personal change in the new year which will mean some changes in official records. More on that when it happens.
Part 5 : 5 March 2023
Warning. References to my mental state, questionable judgement and a surgical procedure.
Things are moving forward fairly rapidly in my personal life. For those who don't know, I'm in the UK and I transitioned briefly in 2008 but had to detransition as I had no support. In short I ended up in a very unwelcome state. In 2012 I had my 'gatekeeper' psych exam and was recommended for referral to a Gender Identity Clinic. That didn't happen.
Scroll forward to the Spring of 2022 and I queried the referral. It became very clear that the referral had been lost. I had my copy so sent that to my GP and asked that the referral be done as a matter of urgency. That took 5 months to approve but I'm in a queue and have heard from the GIC to confirm I'm in a queue. I also asked my GP for an orchidectomy, stating that I had private surgical cover. The reply from my GP said my private cover didn't include the procedure but nothing more.
A few weeks ago I started self dosing with over-the-counter HRT products. I also have a small supply of Estradiol.
On Tuesday, whilst having my eyes tested, my details were changed to Miss Shiraz …. on their database. On Friday I printed, signed and had witnessed a Deed Poll to change my name.
Over the weekend I wrote to my GP, enclosing one original Deed Poll, and asked that my NHS medical records be updated. I also asked her to prescribe me HRT and declared that I was self-medicating. I also then asked again for an orchidectomy, noting that she hadn't refused to refer me for the procedure back in August of 2022.
So … it's begun.
Part 6 : 13 March 2023
My GP had obviously seen my letter (see above) as I received a text message addressed to my new name but I was being asked to complete a change of details form before anything else happened.
That was done before the weekend but I did get a follow-up call from one of the office staff asking if I wanted the gender marker changed? I agreed and it means that a whole new NHS number will be generated. I had attempted, whilst at the clinic, to book an appointment but you can only do that by calling at 8am on a weekday.
Today I had 2 phones repeatedly dialling the number until I managed to get into the actual call queue at #50! By the time I finally spoke to a receptionist some 42 minutes had passed. All that could be arranged was a call back from my GP – the same one who apparently lost my gatekeeper psych report!
She called at lunchtime. I first wanted answers to 2 questions I had raised in my letter.
Regarding my request for HRT "I'm not experienced, trained or authorised." I suggested she found someone in our area who is suitably qualified.
Ref my orchidectomy request, apparently the local GU surgeon has refused to deal with me until I'm cleared by a Gender Identity Clinic.
I pointed out that I was 2.5 years away from my 60th, 11 years down from my gatekeeper interview, 30 years down from my realisation that I was trans and half a century from first knowing that I was 'different'.
She tried to raise the issue of the current 'controversy' regarding the London GIC. I pointed out that the media-generated storm is about the teenage division and not the adult division. So, she suggested that I had already waited long enough and she would see if she could bump me up the queue (I won't hold my breath).
I pointed out that I was self-medicating and felt she could either be a part of that and work with me to ensure my health (etc) or not. She didn't answer me other than asking if someone was providing me with prescription medications.
So, it was mostly hot air and no evidence that she wants to make certain I do no harm to myself!
My formal complaint will write itself at this rate.
Part 7 : 15 March 2023
After Monday's call from my GP I had some thinking to do. Last night I was in a pub where the owner was marking his 20th anniversary as the pub landlord. That event had me standing next to a couple who are retired teachers (having both taught my daughter) and with whom I'm involved with festivals & projects.
Of the couple, she was probing me about my trans journey and he was listening. I wasn't trying to keep the conversation private but the place was noisy enough to (mostly) mask what was being said. As it was, I wasn't probed by anyone else but I won't deny who I am or why that is so.
The male partner from last night was joining me this morning as one project had earned an interview with a local BBC journalist. The journalist was acting in a personal capacity by interviewing us for his twice monthly podcast, this did however mean a good quality digital recorder and mic setup. I had opted for comfort over conformity so arrived in a knee length grey/black mix jumper dress, skin tone leggings and black heeled boots. A little lippy and foundation finished the look.
I expected a comment but none was offered. The interview went well and it'll be available sometime in April. I had walked as it was under 10 mins distance but on the way back a car parked next to me and I was called by the driver, a local barmaid. She told me it was too cold for bare legs, then asked if I had tights on. When I told her I was in leggings she didn't believe me at first. But, no criticism was made.
Back home I decided that I should try to decloak as it won't be long before the connections are made – I've been in the closet for too long. So my Twitter & Mastodon accounts now have my legal name. I'm holding off changing my FB identity and won't be changing my professional FB page.
I have also received the first bank card in my new legal name. New girly glasses on Friday (the existing ones are from the femme range but are too unisex for me)
Shiraz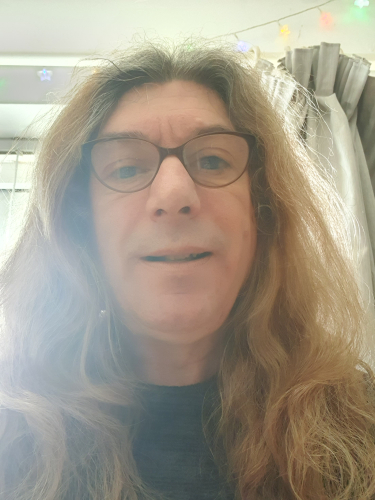 Part 8 : 21 March 2023
A lovely surprise call this morning from my Doctor's office telling me that I had been issued with a new NHS number. That's because the gender marker has been changed and I'm officially female. That was supposed to take 3 weeks but was completed in just 11 days! I'm also, once again, able to order prescriptions online now that the national NHS database has been modified.
That prompted me to call HMRC – the UK's tax and social security monstrosity – where upon I was asked to call a specialist team (which answered the phone straight away!). I have now sent them a copy of my deed poll. That will have my tax records changed to female.
Meanwhile my pension provider was a pain – 50 minutes on hold! – and they need HMRC to supply the updated gender data.
Things are moving forward! It's only been 18 days since the Deed Poll was signed!
Part 9 : 26 March 2023
My long awaited complaint to the NHS about my 11 years of waiting has now gone in the mail and should reach them on Tuesday. I have paid for tracking so will get confirmation.
The key feature of the complaint is the gatekeeper interview in 2012 that achieved nothing despite referral being authorised.
I have asked for answers to the following:
(i) Is my treatment reasonable?
(ii) How can I regain my trust in the local NHS?
(iii) Why has a Bridging Prescription not been offered?
(iv) Have the Tavistock & Portman Trust been informed about the referral from 2012?
(v) How do I recover the lost years?
(vi) Have my protected characteristics under the Equality Act actually been protected?
Obviously UK law & medical practice applies here.
Part 10 : 20 May 2023
There's a few more weeks before my NHS complaint is due to be resolved, but I'm beginning to have doubts that it will be resolved – at least in one of the scenarios that I would accept. I won't speculate further but will let everyone know what their answer is when I receive it.
Unsurprisingly I have heard nothing from my GP but I was called to the local general hospital for a mammogram, confirmation that my gender marker has been changed. The all-clear letter arrived a few days ago; it wasn't a definite as there's breast cancer in the family.
One of the first things I did after changing my name (and medical records) was to ask the dreaded HMRC tax office, formerly the Inland Revenue, to update my tax account. A few days ago I received a phone call from HMRC and had confirmation in writing yesterday – the government databases have now been modified. An immediate follow-up was to contact my pension folk to correct their records.
Regardless of my medical transition, my legal and social transition is well underway.
Part 11 : 5 July 2023
Ever since my name & gender change was official, in March of this year, I have been informing various folk officially of the change. One of those was the Tavistock & Portman GIC Trust in London. When I received a "who are you" back in May I had to let them have my old and new NHS registration numbers, but they couldn't find me. Most recently I sent them the referral documentation.
Today I was told that the referral hadn't been received so I wasn't on their system. They suggested I speak to my GP. I forwarded the long email chain to my GP asking for an explanation but also copied it to the local complaints unit. No great surprise that I've heard nothing from my GP but I followed the email up with a call to the complaints unit and spoke to a lovely lady – thankfully she could see my email. First order of business is a new GP, second order is for this new complaint to be added to the one I raised in March! Perhaps it is fortunate that my original complaint is also now being dealt with locally. I'm promised a call or email before the week's out.
Part 12 : 17 July 2023
I've had an email today from the Tavistock & Portman NHS Trust to confirm that they have accepted a referral for me. I immediately responded, asking them for my effective referral date and who made the referral. The answers took 15 minutes (!): 26 July 2022 and my GP's team made the referral.
So it's in. Unfortunately the other piece of information from the Trust was that they are giving first appointments to patients with a referral date in July 2018! So if you felt tremors, it's not because I'm jumping up and down with joy.
I have emailed the local NHS unit and reiterated that my complaint needs to be resolved, regardless of today's news. I'm not going to accept a 4 year wait.
Part 13 : 20 July 2023
It's been and up & down week, and it was only Thursday when I received the latest news from the local NHS complaints office:
"Your complaint and the response from the practice, together with your recent emails is currently undergoing an independent clinical review. We will of course let you know once this has been completed."
So all I can now do is wait.
I have asked, several times, for a change of GP but I've heard nothing about it as yet – that doesn't have to depend on the complaint but I suspect they have linked the request with the complaint.